PG+Gas Control System is a reliable solution developed by WOODWARD based on more than 20 years of field application data and experience of Gas engines, as well as the operating features of Gas engines. It is suitable for a variety of non-road gas engines. Meanwhile, it could meet the requirement of lower fuel consumption rate and further improve the fuel economy. In addition, the solution improves the stability of speed regulation, increases the adaptability range of gas composition changes, meets the international standards of G2 and above of ISO8528, applies to higher emission standards, and increases the fault diagnosis and protection functions of OBD.
PG+Gas System Application Scheme
1. It can support various of application environments: genset, distributed energy, CHP, ship machine, pump set, etc;
2. Engine displacement: 2L-32L, power: under 880kW;
3. With a wide range of fuel adaptability: LPG, LNG, CNG, methane, coalbed methane, etc;
4. Supports switching between two different fuels;
5. Dual system control can support up to 16 cylinder engine, single system control can support up to 8 cylinder engine;
6. It Can support naturally aspirated and turbocharged engines;
7. It has two combustion modes: dilute combustion/equivalent combustion;
8. Self-learning function of gas quality;
9. Suitable for a variety of gas pressures, supporting low pressure gas pressure supply (1-4)kpaG.;
10. It can support a variety of genset control modules and achieve genset parallel/grid connection.
PG+Gas System Single System Diagram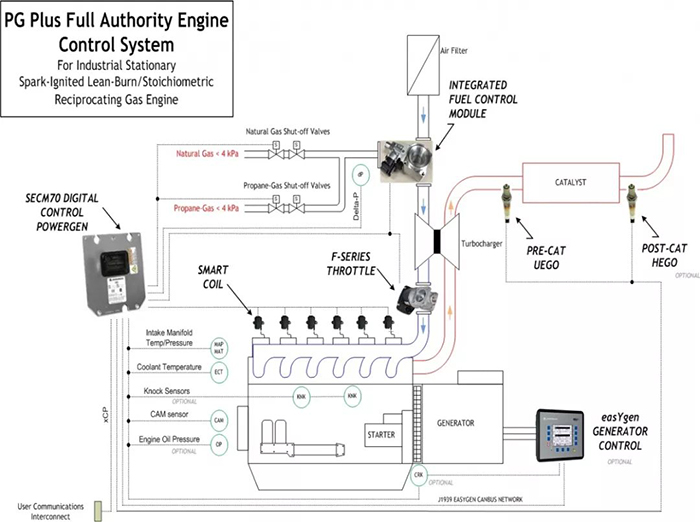 PG +Gas Dual-system Dual-fue Diagram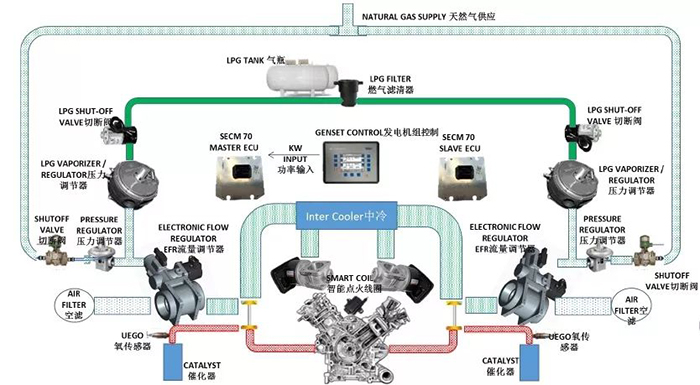 PG+Gas System Application