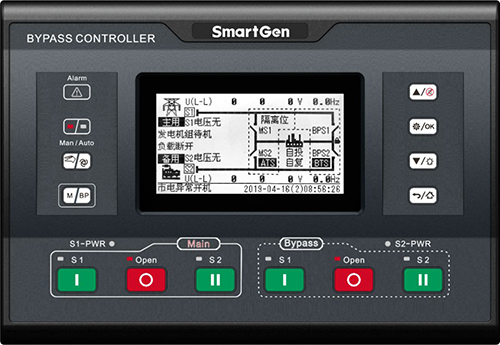 According to GB 50174-2008 "Design specification for computer room of electronic information system"and 09 DX009 "Engineering design and installation for computer room of electronic information system"national standard atlas and other relevant regulations and requirements, having a high request for power system reliability, continuity of the special important places. In order to prevent when ATS failure, damage or automatic transfer switch is in maintenance, affecting the continuity of the power supply system, we should set bypass isolation type ATS. In addition, the switch between mains and diesel generator shall adopt the automatic switch with bypass function, which shall not affect the switch of power supply when the automatic switch is repaired.
According to the application of bypass ATSE, SmartGen has designed and developed a bypass ATSE control module--HAT880, the main functions are as follows:
System type can be set

4.3 inches LCD display with Chinese & English

Display position of main switch (working, testing, insulated)

Display position of bypass switch (working, testing, insulated)

Collect and display voltage, frequency and phase sequence of 2-way-3

Independent S1/S2 over current warning or trip alarm functions

NEL (Non-Essential Load) trip functions

Display S1/S2 total kW energy, total Kvar engergy

Display continuous power supply time at present and last time, and S1/S2 total power supply time

For energy-accumulated ATS, it shall close when switch PF (close is prepared well )signal is active

Over/under voltage, over/under frequency, over current, loss of phase, inverse phase sequence protection functions

Automatic/Manual mode swichover; In manual mode, close or open can be controlled manually

The genset can be tested maually on site to achieve start/stop operation

Re-close function of main switch and bypass switch in auto mode when power outage occurs

Applicable for single bypass, doubel bypass and alternate dual spare bypass switch

Applicable for bypass switch of manual control and remote control

Real-time clock (RTC);even log function, which can record a 200 items circularly

Black box record function, which can record 5 events circularly,60 data of 50s before each event record and 10s after each event record

Scheduled routing start& scheduled not start function for the genset, which can be set a start once a day/week/month; and running with load or not

Can control two generators to work in the mode of circular running, master running and balanced running

Wide DC power supply range, which allows the control module to bear instantaneous 80V DC current input

Large terminal space allows the control module to bear maximum 625V AC voltage input

Dual isolated RS485 communication interface, having the functions of "remote control, remote measuring, remote communication, remote regulating" by the ModBus-RTU communication protocal, which can remotely start/stop the genset and control the breaker to close or open

DC8.0V~35V, continuous power supply

AC (90~305)V power supply A1N1/A2N2
HAT780/HAT880 Functions Comparisons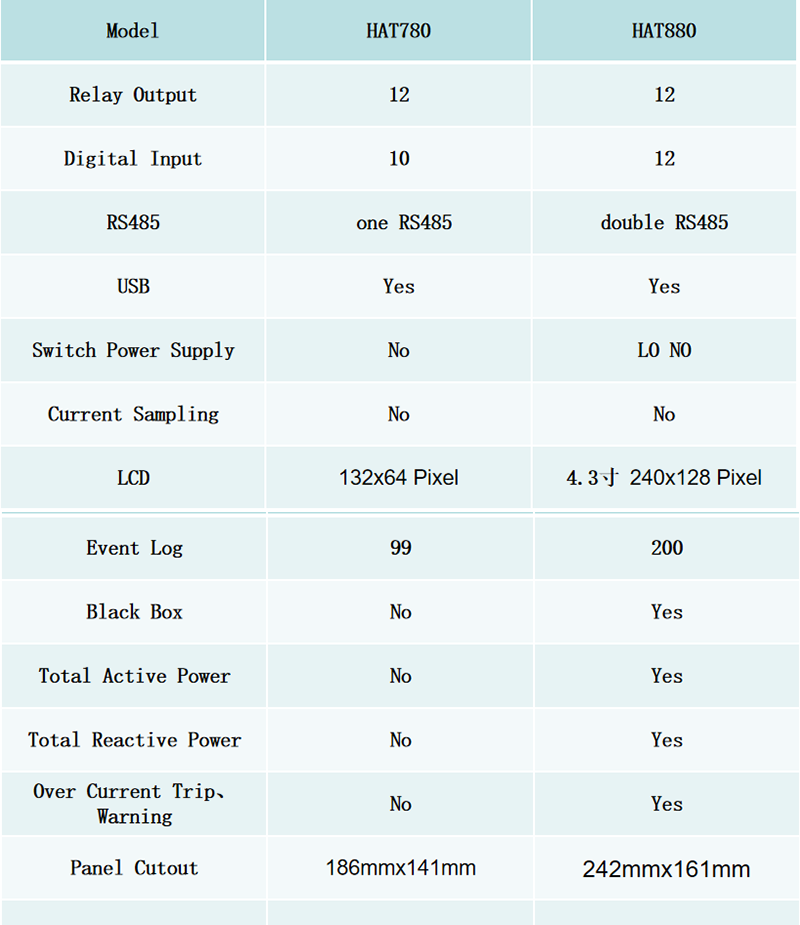 Dimentional Drawing and Pannel Cutout

HAT880 bypass ATSE control module can be adapted to different brands, different models of bypass ATSE. For instance, ASCO, GE, TAKATA, HANKWANG, PHETENG, SIWO, etc. Smart Gen has been successively launched 2-lines bus control module HAT821, 3 power supply automatic transfer control module HAT833/HAT832, bypass ATSE control module HAT780/HAT880 and other series of products.